Sustainable Strategy
with Low-Code
📅 Wednesday 7/6/2023 - De Koninck Antwerp City Brewery

Low-Code, a sustainable accelerator for your organization
Low-Code has gotten more and more traction and visibility on the market as a powerful accelerator for companies in their digital transformation. But did you know that a Cloud-Native Low-Code Platform such as OutSystems can not only help you deliver faster and leaner? It also empowers you to deliver your projects in a more sustainable way while still having all the benefits from a highly automated process with security, maintainability, quality and scalability by design to build applications that meet your specific business needs in a matter of weeks.
Come and discover how OutSystems can accelerate your organization's business and sustainability goals!
➡️ This event is specially designed for business and IT leaders who are looking for ways to reduce their carbon footprint by drastically shortening the time to market and optimizing their IT infrastructure for their business and IT projects.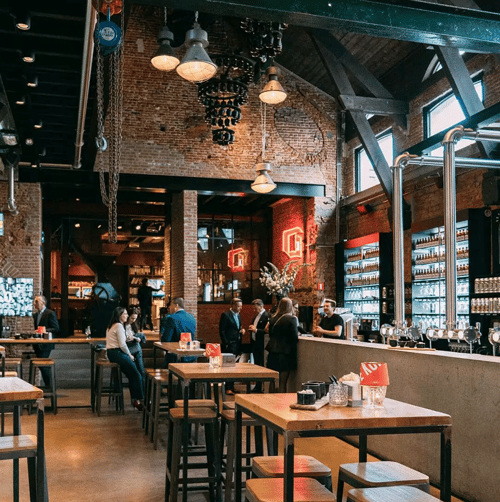 What to expect?
An inspiring and exclusive event for max. 20 people
Interactions with Business & IT Leaders
Wednesday 7/06/2023
Timing: 15h00 - 19h00
The session is focused on knowledge, inspiration & experience sharing. We provide an inspiring group and our attendance list in advance. Our expert speakers and facilitators are dedicated to providing attendees with valuable insights and practical strategies that they can apply to their businesses.
15h00 - 15h30: Welcome


15h30 - 16h30:

Context and IT Trends
Low-Code OutSystems as Sustainable Accelerator


16h30 - 16h45: Break


16h45 - 18h00:

A hands-on glimpse of the platform
Low-Code OutSystems as Sustainable Accelerator
Q&A Panel
18h00 - 19h00: Networking and an interactive brewery tour (optional)
Why Low-Code?
In today's fast-paced and ever-changing business landscape, agility and innovation are essential to stay ahead of the competition.
Low-Code platforms enable businesses to quickly respond to changing market conditions and customer demands, accelerate their development cycles, and reduce costs. With OutSystems, organizations can achieve digital transformation faster and more efficiently, while improving collaboration between IT and business teams, and ultimately delivering better customer experiences.


OutSystems helps you to implement multiple of the 2023 technological trends and will proof itself as a big asset in solving the business challenges at hand.

Would you like to attend? Register by clicking the button below.
Note: Can't attend due to circumstances? Please notify us at least 5 days in advance. That way we can still look for a replacement.
Thanks for your understanding! 👍
Practical
8 June 2023 - Antwerp
Mechelsesteenweg 291
2018 Antwerpen


Parking
Parking available for our guests at the location
Contact

Email ✉️

Last minute annulation

Too bad you can't attend! Please remember to cancel your reservation at least 5 days before the event.

In case of cancellation after 5 days or a no-show, we will charge a fee of 50€ which we will donate to charity.